Things have shaken up in a BIG way.
The playoffs are near as the regular season officially ends this weekend, and the playoff picture is still unclear. All but only 1 team (Ball Hogs) have a chance at the postseason, but more importantly, a championship.
Last weekend was wild. Upsets shook the league as the standings shifted. The 3 Headed Monsters easily defeated the Enemies and Ghost Ballers stunned Trilogy with a surprising victory. But there was no upset greater than Tri-State's victory over Power.
Since Corey Maggette's return, Power have appeared to be unbeatable. They even took down Iso Joe and the Triplets. A Tri-State victory seemed improbable, but their stars Amar'e Stoudemire, Jason Richardson, and most of all Nate Robinson showed up and took over.
After trailing early and halfway through the game, the Tri-State trio caught fire and sparked a comeback that led to the most epic game winner this season.
Nate Robinson started the last possession with the ball at the top of the key, dancing around defenders. Nate got a switch on defender Glen "Baby" Davis who attempted to pick pocket Nate but fell to the ground. Nate then quickly dribbles right and pulls up for the game winning jumper from 3-point range. Baby Davis pops off the ground as Nate Robinson releases the shot and catches Nate mid-air, only to watch the ball bank in. Game over.
Watch the incredible highlight here:
(Almost) any team has a chance to make the playoffs after all 3 games had an upset finish in Miami last week.
While only a couple of teams have clinched a playoff spot and the Ball Hogs have been eliminated, 9 teams still have an opportunity to make the postseason.
Let's look at the teams that are in, the teams that are hopeful, and the teams that need a little help.
Teams that clinched:
Triplets (6-1)
After Power suffered a tough loss to Tri-State in Miami last Saturday, the Triplets are now the team to beat in the BIG3. The MVP frontrunner, Joe Johnson has been on a tear all season. He has led his team to the best record in the BIG3, he leads the league in points per game with 22.3, and is set to break Rashard Lewis' single season scoring record (170 pts).
Power (5-2)
We felt Power was the strongest team heading into the playoffs, but they showed some weakness on defense last Saturday, so we have them as the 2nd best team now.
Corey Maggette has had another strong season, while Cuttino Mobley and Baby Davis have played their roles perfectly. Plus, this team has depth with Carlos Boozer coming off the bench. Power belongs in the top tier of the BIG3.
Teams in the hunt:
These are the teams most likely to make the playoffs that haven't clinched.
Killer 3's (4-3)
After dropping 2 straight games, Killer 3's find themselves in the hunt rather than clinching a spot in the playoffs. Momentum is clearly not on their side, so Stephen Jackson along with Frank Nitty and the rest of their squad need to perform at a high level this Saturday against the Enemies.
Trilogy (4-3)
This team fought hard to be in this race, winning 4 straight games before taking an L in a surprising upset by the Ghost Ballers in Week 8.
David Hawkins and James White have helped will this team to contention. Tough competition and a back against the ball mentality of the Ghost Ballers seemed to have caught Trilogy off-guard. Trilogy needs to shake off this tough loss and remember where they came from if they want to make the playoffs.
Bivouac (4-3)
If Bivouac ever had a chance to make the playoffs this season, now is it. Bivouac will take on the 0-7 Ball Hogs this Saturday for the last game of the regular season. If Bivouac can pull off the chip-shot victory and the other teams list above take a loss, they're in.
Ghost Ballers (4-3)
The Ghost Ballers find themselves back in the thick of things after a hot start to the season followed by a sudden slump.
Their win over Trilogy was impressive, but they'll have tough competition against Iso Joe and the Triplets on Saturday. Maybe this matchup is a blessing in disguise the Triplets will played more relaxed since they have already clinched, or maybe they'll beat the Triplets at their best and the team's confidence grows 10x.
The teams that need help:
These teams have a fighting chance to get into the playoffs, but they need everything to go their way, including many teams losing in Week 9.
Aliens (3-4)
Greg Oden has been playing well, Brandon Rush is shooting lights out and currently leading the BIG3 in 3-pointers made, but can they pull off the win Saturday against Tri-State?
3 Headed Monsters (3-4)
The 3 Headed Monsters forced themselves right back into this race with a sound win over the Enemies last weekend.
This team plays smooth basketball. Everyone gets touches and quality shots. They will play Power for the final game of the season, a team that has already clinched.
3's Company (3-4)
Andre Emmett has been on fire the 2nd half of the season.
3's Company had an awful start to the season but found a way to be in position to make a push for the playoffs in the final game of the season. Their opponent, Trilogy, will be a tough matchup for them as they also fight for their lives in Week 9.
Enemies (3-4)
Perhaps the most disappointing team of the season.
Lamar Odom left the league early in the season and Gilbert Arenas hasn't quite performed up to the fan's expectations. Now, they are unlikely to make the playoffs, but still have a little hope largely thanks to Craig Smith.
Tri-State (3-4)
Can they pull of the Cinderella story?
Tri-State are star-studded with Amar'e Stoudemire, Nate Robinson, & Jason Richardson. It's surprising they have a losing record this late in the season. If Tri-State can sneak into the playoffs, they'll be poised for another big upset and a run at the title.
The final week of regular season basketball is going to filled with dog fights.
Everything is on the line for most teams. Expect the league stars to bring their A-game.
Here are the matchups you NEED to watch in Week 9.
Will Bynum Vs DeShawn Stevenson
Two high energy guards that can put on a show.
Will Bynum is the 3rd leading scorer of the BIG3 with 18.6 points per game. He's shifty, quick, has great handles, a smooth jumper, and knows how to finish tough shots at the rim. Will Bynum has been Bivouac's rock all season long, so we know he's going to come out firing on Saturday August 17th at 2pm Est.
While the Ball Hogs are officially eliminated from the playoff race, DeShawn Stevenson still has something to play for. He is currently tied with Brandon Rush for the most 3-pointers made this season. The Ball Hogs haven't had a win all season, so DeShawn needs to pick up a dub where he can get it.
Expect DeShawn to shoot all day, regardless if it's a clean look or not since he has nothing to lose.
Stat Predictions
Will Bynum: 19 points, 5 assists, 2 steals
DeShawn Stevenson: 15 points, (4) 3-point shots made
Joe Johnson vs Rick Davis
We have had Joe Johnson winning every single matchup this season thus far.
Iso Joe has proved to be the best player in the league. He's a natural scorer, incredible shooter, and consistently clutch.
With the season on the line, Ricky Davis will do his best to check Joe Johnson and keep him from dominating the game. The Ghost Ballers need to slow down JJ if they want to make the playoffs, ultimately that will probably fall on Ricky Davis' shoulders.
We think Joe Johnson will be held to under 20; scoring 16 points with 4 assists and 5 rebounds. On the other hand, we believe Ricky Davis will have 13 points, 2 assists, 1 steal, 1 block. Watch this matchup Saturday August 17th at 3pm Est.
Reggie Evans vs Glen Davis
Not the matchup you'd expect us to talk about on Saturday August 17th at 3:45 pm Est?
Well, after Reggie Evans was clearly sour about his teammates getting the attention during the last post-game presser, we decided to show him some love.
Reggie Evans is known for being a banger. The man is tough as hell and will fight for every single rebound, tip in, block, you name it. Afterall, he leads the league in rebounding with 11.4 boards per game. This is exactly what the 3 Headed Monsters will need Evans to bring to the table if they want to make the playoffs and beat Power.
It is likely that Baby Davis will be matched up against Evans. Glen Davis can play bully ball as well, but he generally plays with more finesse and relies on skill more than Evans. Nevertheless, he's going to have a difficult time scoring. Fortunately for Davis, Power has already clinched a playoff spot, so they don't need much from him.
We believe Reggie Evans will put up 14 points, 11 rebounds, 2 blocks while Glen Davis has 10 points and 4 rebounds.
Stephen Jackson vs Craig Smith
Both men are well rounded scorers.
Craig Smith, the sleeper of the season has led his team all summer, currently ranked 4th in scoring with 17.9 points per game. Nevertheless, Stak is going to do what he can to slow this man down.
As one of the toughest defenders in the BIG3, Stephen Jackson will not allow easy buckets on August 17th 4:30pm Est with the Killer 3's playoff hopes on the chopping block.
Stephen Jackson started off the season scoring at a higher volume and he will need to bring that level of play this weekend if he wants to keep the season alive.
Stat Predictions:
Stephen Jackson: 18 points, 2 assists, 2 steals
Craig Smith: 17 points, 4 rebounds, (3) 3-point shots made
Andre Emmett vs David Hawkins
This one will be exciting.
Andre and David are similar players and they've both been on fire as of late.
They are well rounded offensively and play with high energy on both sides of the ball. Also, they are the same size and height at 6'5".
We give the scoring edge to Andre who is averaging 16.9 points per game, but the defensive advantage to Hawkins who is leading the league with 1.3 steals per game.
Better believe this one will be a battle of grit on Saturday August 17th at 5:15pm Est.
We believe Andre Emmett will put up 21 points, 3 assists, and (3) 3-point shots made while David Hawkins drops 20 points, grabs 4 rebounds, and collects 2 steals.
Brandon Rush vs Nate Robinson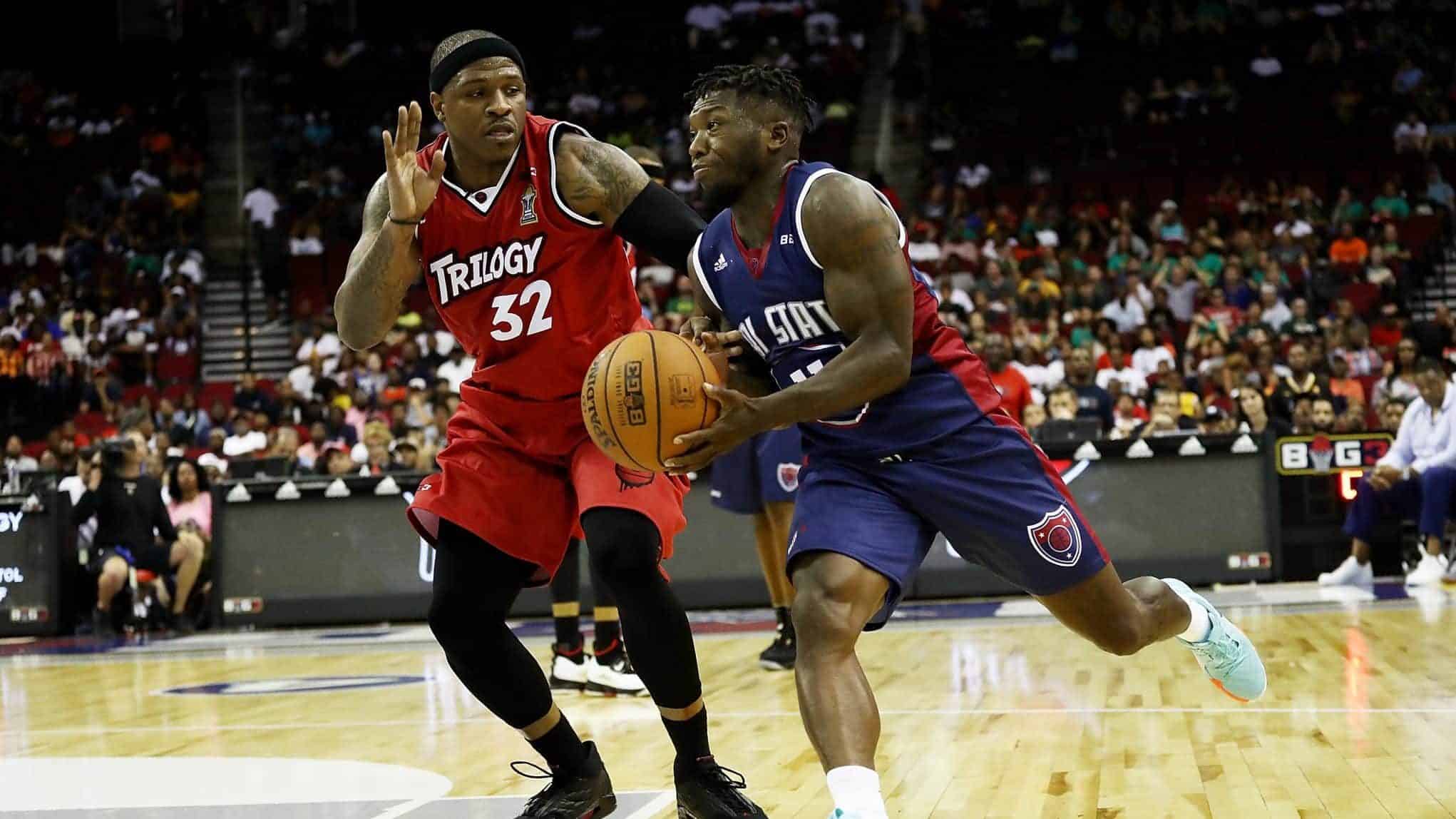 Back against the wall, the only way out is to win.
After coming off a cold-blooded game winner, you know Nate Robinson isn't finished yet with the season on the line.
Since Nate Robinson's confidence must be sky high, we think he's going to go crazy Saturday August 17th at 6pm Est. Aside from the game winner, Nate Robinson played a complete game of basketball last weekend, scoring 20 points and hitting (4) 3's. We expect more of the same this weekend.
Brandon Rush not only has a playoff spot, but a 3-point title as well. If Brandon Rush has a big shooting night, he can lead his team to victory and be the leading 3-point shooter of 2019.
Brandon Rush will be able to shoot over the 5'9" Nate Robinson with a little space, so expect him to let it fly.
We have Nate Robinson going for 19 points, 2 assists, (3) 3-pointers made and Brandon Rush to put up 14 points and (3) 3-point shots made.
ALL BIG3 games this Saturday (August 17th) can be watched on CBS & the CBS Sports Network starting 2pm Est.
Final Score Predictions:
Bivouac: 50
Ball Hogs: 31
Triplets: 47
Ghost Ballers: 50
3 Headed Monsters: 50
Power: 45
Killer 3's: 46
Enemies: 50
3's Company: 50
Trilogy: 52
Tri-State: 50
Aliens: 45
Join the Discussion