Week 3 is a wrap, but this Big3 season is just beginning.
The drama heightens and the plots thicken as Week 3 of the season concludes. Some contenders appear to be pretenders, a couple of stars are catching momentum, others have slowed down, the Enemies are living up to their name, Amar'e is making NBA moves, and Big Baby Davis is running up the stands and throwing his jersey into the crowd.
But, most of all, the epic battle and Atlanta reunion between Josh Smith and Joe Johnson lived up to the hype and then some. A lot of people questioned Josh Smith's ability to still play basketball at a high level. Well… Josh put that conversation to rest REAL quick on Sunday in ATL.
Right off the bat, Josh Smith was lighting it up, scoring the Bivouac's first 16 points of the game. Smitty started off nailing 3's, playing bully ball in the paint, proving to be untouchable in the first half of the game. But Joe Johnson couldn't let Josh Smith and the Bivouac have all the fun. Iso Joe, as usual, completely took over the game in the second half. JJ was dribbling out the ball for 3's and draining shots in the faces of the entire Bivouac roster.
Ultimately, Josh Smith and the Bivouac became another victim to Joe Johnson's unbelievable streak as the Triplets pull off the comeback after being down 11 at the half, remaining undefeated.
Now, back to the Big Baby Davis show.
Glen Davis doesn't go through the motions of the ejection process like everyone else, apparently. After going OFF on the refs about a foul call, Big Baby was ejected, but didn't proceed to the locker-room right away. Big Baby needed to make the most out of the moment. The crowd was cheering Davis on his way out when suddenly he ran up the stands to soak in the attention, leading to him taking off his jersey and tossing into the audience, and (unnecessary but cheeky) his jersey shorts.
If you haven't seen this rare and hilarious moment already, watch here.
Some of the league's best teams and players had a tough outing in Week 3, including Cuttino Mobley.
Power was undefeated until this past weekend, and Cuttino Mobley was playing like an MVP until getting shut down. It appeared Power would be the potential front-runners to become back-to-back Champions this year, but they looked slow against the previously winless Trilogy. Cuttino only finished with 6 points in Power's first loss of the year, proving the team will likely need reigning MVP, Corey Maggette to keep their repeat hopes alive.
Leading up to Week 3, Trilogy were dubbed as one of the weakest teams in the league, but things have shifted quickly. David Hawkins woke up, scoring 21 points and hitting a 4-pointer in the Trilogy's first win of the season. If Trilogy can keep the ball moving and Hawkins can stay consistent, then perhaps they'll make a run in the post-season.
Let's look at our BIG3 Power Rankings heading into Week 4.
Triplets (3-0)
Joe Johnson is the BIG3's leading scorer with 24.3 points per game- enough said.
Killer 3's (3-0)
The only other undefeated team left is the Killer 3's. Steven Jackson has been on fire, ranked 3rd in scoring with 22 ppg, and Frank Nitty is a young star in the making. This team is well balanced and built for the playoffs.
Enemies (2-1)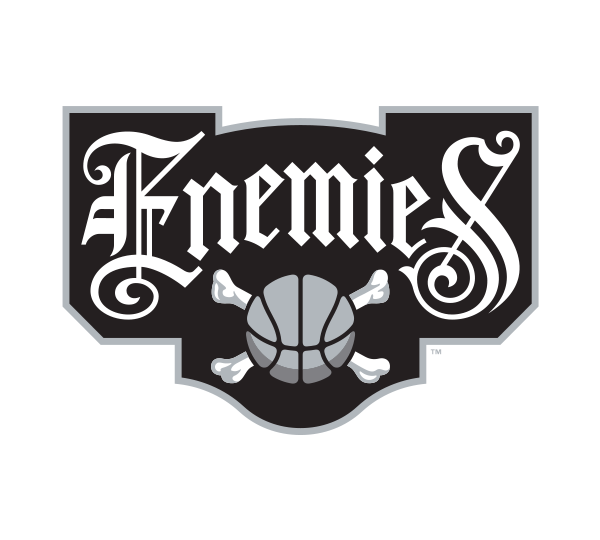 There's a good chance the Enemies would be undefeated if Gilbert Arenas played Week 1. Royce White is a well-rounded basketball player, Gil is getting up to speed and playing typical world-class ball again, but Craig Smith has been the true difference maker. Craig Smith is the league's 2nd leading scorer with 22.7 ppg and the star that no one saw coming on a team with big names like Lamar Odom, No Chill Gill and more.
3 Headed Monsters (2-1)
Rashard Lewis and the Monsters have been playing great basketball, but recently lost a tight game against the Killer 3's. Until last weekend, they were undefeated.
Power (2-1)
After a disappointing Week 3 performance, Power fell out of the conversation for best team in the BIG3 up to this point. We'll see if Cuttino and the Champs can rebound (no pun intended).
Ghost Ballers (2-1)
The middle of the road team thus far. The Ghost Ballers pick up their first L after getting obliterated by the Enemies, 50-35, showing us that they are challenged offensively.
Tri-State (1-2)
Amar'e Stoudemire has had an impressive season, averaging 22 ppg and 8.3 rpg. He worked out privately with multiple NBA teams (word is as many as 12) this week. If Jermaine O'Neal returns to play, the league may be in trouble.
Bivouac (1-2)
This is a hard team to figure out. Their only win was from a game after Josh Smith and Royce White of the Enemies got ejected. But the Bivouac just lost a very competitive game against JJ & the Triplets that felt more promising than their only win.
Aliens (1-2)
Greg Oden is heating up, putting up 18 points and a block in his teams first win of the season last Saturday.
Trilogy (1-2)
They just took down the undefeated Power, but can David Hawkins and the Trilogy stay consistent?
Ball Hogs (0-3)
The Ball Hogs have not only lost every game of the season so far, but they have fallen short of scoring 40 points in 2 out of the 3 games of the season.
3's Company (0-3)
Unfortunately, we're not sure if even Baron Davis can save this team. They have put up 114 points this season and have allowed 150 points against them.
Here are a few of the best matchups to look forward to for Week 4.
David Hawkins vs Steven Jackson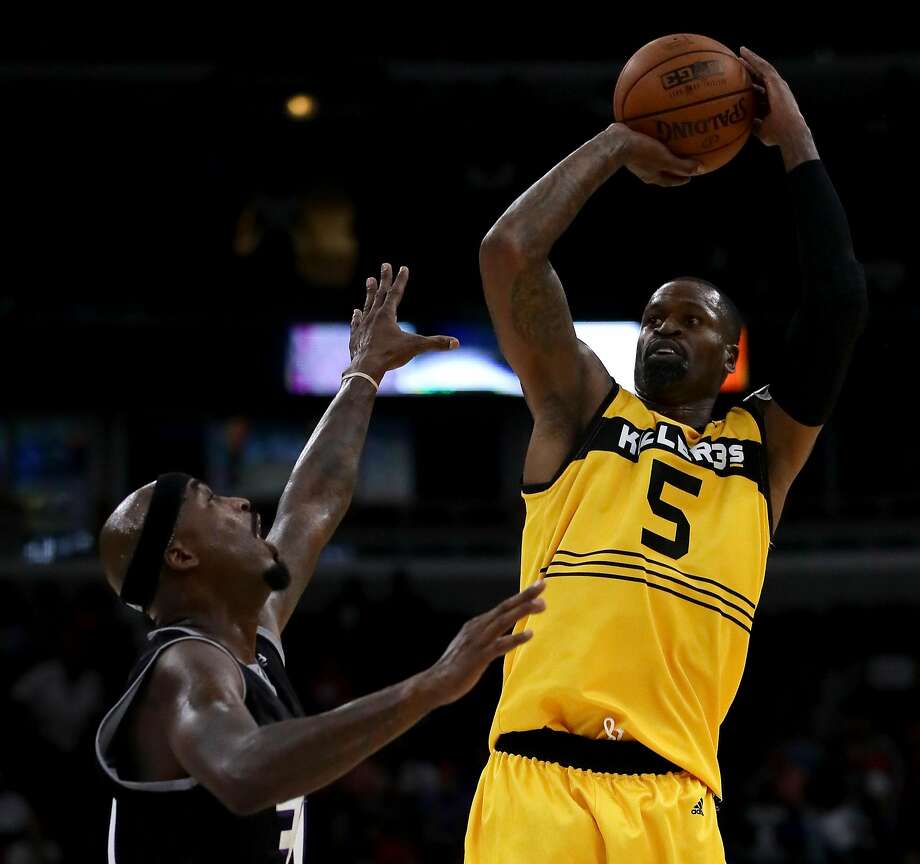 Hawkins matched-up against Jackson will be the true test to see if he can keep up the scoring. Stak is a great scorer and a very underrated on/off ball defender. If David Hawkins can put up +20 points again this Sunday (7/14) at 2pm Est in Brooklyn, then we'll know he's a legit threat this season.
While we think Hawkins will rise to the occasion, we feel Steven Jackson will have the better game with 24 points, 3 rebounds, and 2 steals.
Josh Smith vs Rashard Lewis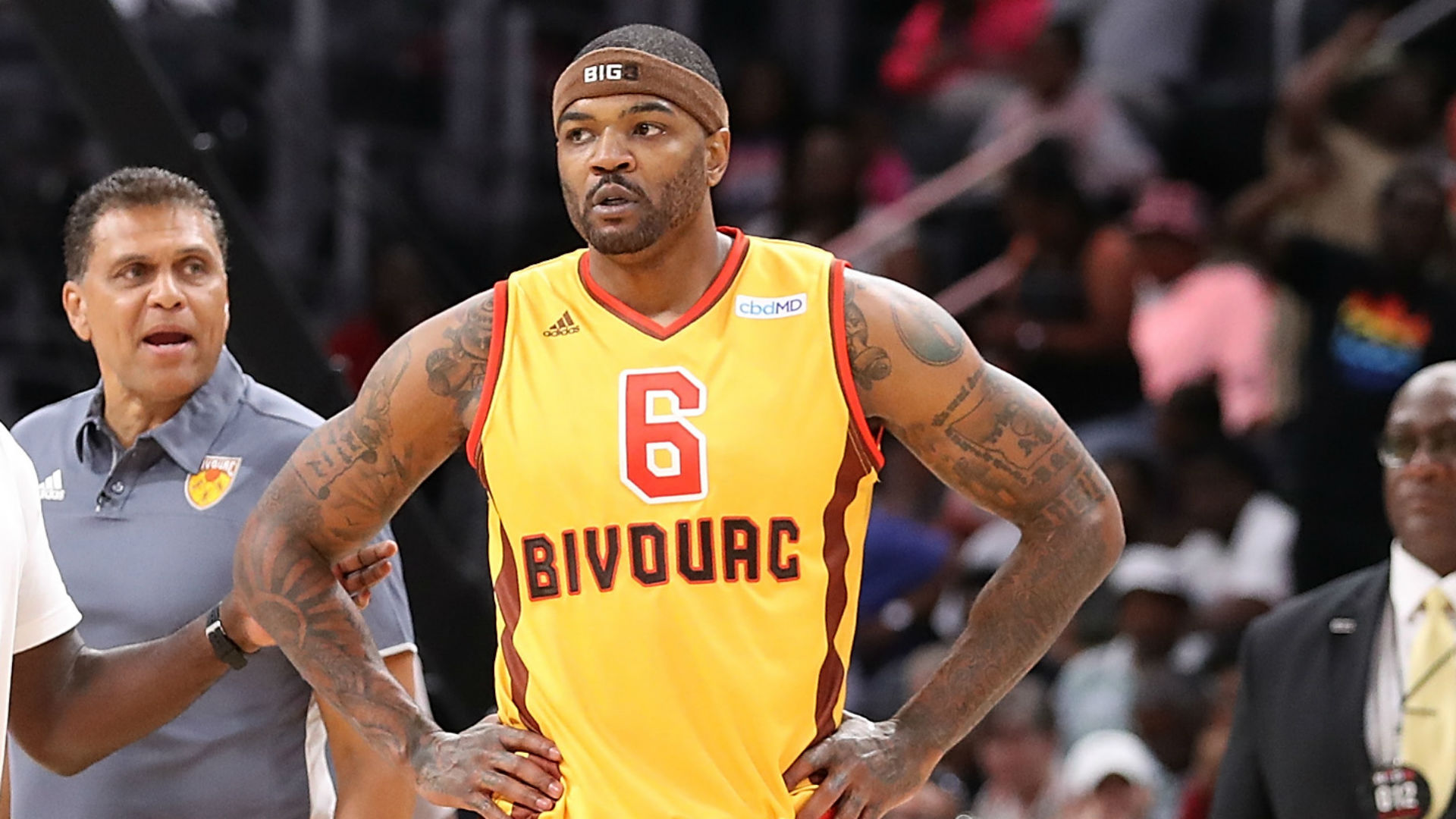 After a cold start to the season, Smitty came out firing, scoring 16 straight points. Although his team fell short, he established his presence as a Playmaker in this league. Rashard has been steady, leading his team to a 2-1 record on the season. He's not a high-volume scorer, but he's constantly a threat from deep and can shoot over practically everyone.
Nevertheless, we feel Josh Smith will keep up pace and drop 24 points in his matchup against Rashard and lead his team to victory on Sunday (7/14) at 1pm Est.
Jason Richardson vs Joe Johnson
J-rich is beginning to cook up. He helped his team to their first victory of the season with 14 points & 9 rebounds. Also, he's a gritty defender that likes to give his matchup very little space.
He will be eager to keep the momentum up and get another win on Sunday (7/14) at Noon Est. Nonetheless, Joe Johnson has been unstoppable up to this point, and we don't anticipate that changing anytime soon. Iso Joe will keep the Triplets winning streak alive with 23 points, 10 rebounds, and 5 assists in another NBA esc performance.
*Baron Davis vs DeShawn Stevenson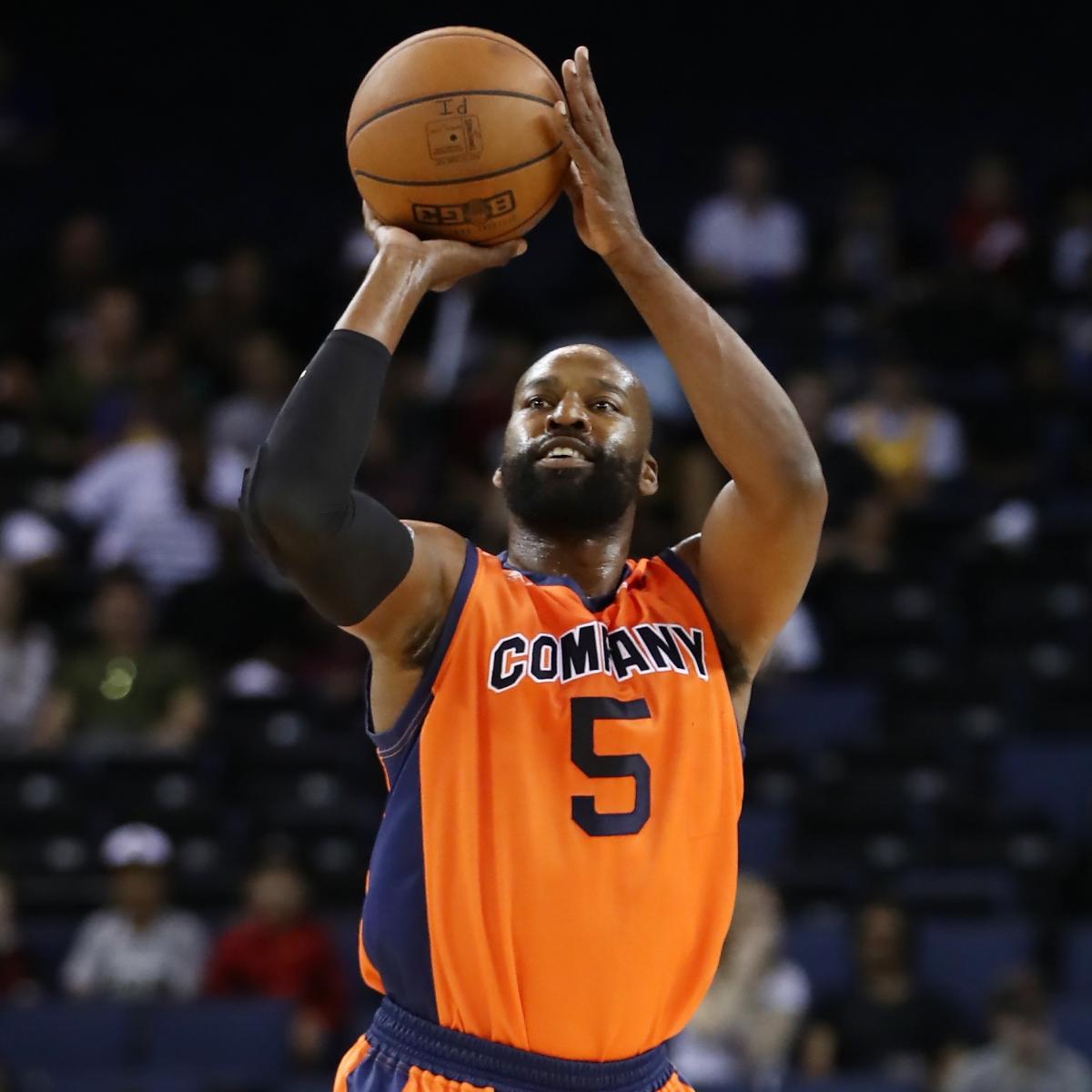 If Baron plays, this will be a very interesting matchup on Saturday (7/13) 2pm Est.
Baron is a natural scoring guard, and a sharpshooter. DeShawn is a top-notch defender and quality scorer as well.
While Baron Davis is the more gifted handler, passer, and all-around scorer, we believe DeShawn Stevenson is too strong and physical for Baron to have a big comeback game. Stevenson should be able to drop 17 points, 3 rebounds, & 2 steals in this matchup.
Gilbert Arenas vs Andre Owens
No Chill Gil is just getting warmed up. After hitting the game winner in Week 3, we feel this is just the tip of the iceberg. Gilbert's legs are back, and his shot never left him.
The Enemies are finding a rhythm with Gilbert and Craig Smith as the scorers and Royce White as the "point forward". While Andre Owens is a respected guard in this league and is capable of a big scoring day, we think Gilbert Arenas is going to rain buckets and outshine his matchup.
Andre is probably a bit stronger than Gilbert Arenas, but not as shifty. Agent Zero will still be able to create his own shots despite Andre's aggressive defensive effort. We believe Gilbert will score 20 points and hit a 4-pointer on Saturday (7/13) at 1pm Est against Andre Owens and the Aliens.
Cuttino Mobley vs Ricky Davis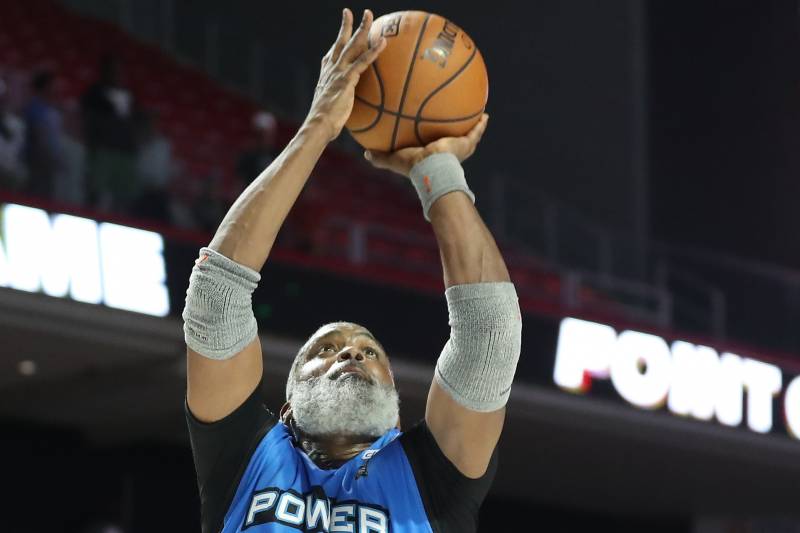 Will the Chrome Beard bounce back after a disappointing performance in Week 3? We think so…
While Ricky Davis is a sound defender, and faster than Cuttino, he'll still have trouble guarding him because Cuttino uses strength over speed. Cuttino plays a grown man's game, he likes to turn his back on the defender, and push his way into scoring positions.
However, this doesn't mean we don't expect Ricky Davis to show up. Like Cuttino Mobley, Ricky Davis' team, Ghost Ballers, also suffered their first loss of the season. While Ricky was the leading scorer in that game, 13 points didn't get the job done.
Both players in this matchup will be aggressive in Week 4, looking to lead their team out of a losing streak. Ultimately, we think Cuttino will have the last laugh in close game.
Our stat prediction for Cuttino Mobley: 21 points, 4 rebounds, and (3) 3-pointers on Saturday (7/13) at Noon Est.
Week 4 Predictions
Power: 50
Ghost Ballers: 47
3's Company: 44
Ball Hogs: 50
Bivouac: 50
3 Headed Monsters: 46
Aliens: 39
Enemies: 50
Triplets: 50
Tri-State: 40
Trilogy: 43
Killer 3's: 50
Join the Discussion