Ah Summer…
Everything is a little easier this time of year. The beach days are plentiful, pool parties are live, and the vibe is right.
The Summer is meant to be enjoyed and cherished. But hey, ball is life in the end of the day, so hoopers like us wanted to know how we can enjoy this time of year, our way.
That's why we're here to introduce to you our handpicked summer wish list for hoopers.
These 7 carefully selected items will enhance your summer experience by 10x.
We got a little bit of everything in here; from the perfect backyard party addition, to the basketball of the year, and at #1 we reveal an all-time game changer for hoopers everywhere.
Here are 7 pieces of gear that will make the rest of your summer one to remember.
7. SKL Backpack
A must have for hoopers on the go.
This bag will comfortably fit your basketball, sneakers, a pump, and speakers.
You can carry it like a duffle bag or over your shoulder.
This bag is only $14.98.
Click the picture below to purchase.
6. GoSports Splash Hoop
Who said you had to chose between playing basketball and going in the pool/beach?
It's summer time, so you're (probably) going to be enjoying the water. This floating hoop is perfect addition for making the most out of your pool day.
It never tips over and it never needs to be inflated.
Click this image below to get yours.
5. Deadstock Los Angeles Shoe & Sneaker Cleaner Kit
You hate to see it, people spend all that money on a new pair of kicks and they let them go to waste.
Especially in the summer when you're outside more, take care of your sneakers. This kit offers all natural solution products that are suitable with canvas, cloth, mesh, knit & more.
This complete kit is only $17.98 comes with a 8oz bottle, brush and cloth. If you have valuable sneakers that you need to keep clean, this is our recommendation.
Click this picture below to get yours now.
4. LEADTEAM Luminous Net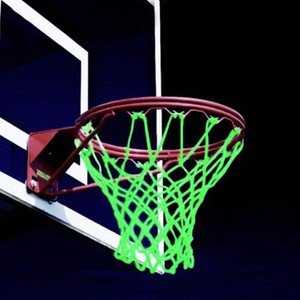 This net makes hooping at night fun & finally easier.
A glow in the dark outdoor basketball net speaks for itself. Beyond just being able to shoot outdoors, you'll be able to record basketball videos at night, and you'll probably be the only person you know to have one.
This net is NBA and NCAA official sized at 20 inches.
Plus, this net is ONLY $9.99. A straight up steal.
Click this pic below to buy one now.
Of course, you'll need a basketball to go along with the net…
3. Playmaker Basketball
Coming in hot at #3 is our Playmaker Light Up Basketball.
This ball by far the easiest to play when it's dark out, but also glows in the daylight.
Also, this basketball is reflective, so with the camera flashed turn on you can create the coolest videos of you and your friends hooping.
Imagine recording videos of you throwing down dunks and tossing up lobs at night with this new ball…
Not to mention, the grip is as good as it gets.
To own a Playmaker Basketball today click this picture below.
2. Wicked Big Sports Supersized Pong
They had to out do normal pong here…
This is your classic pong, only bigger and better. Personally, I never felt pong translated to basketball, until I played this version.
This is a great addition to any outdoor day, tailgate, beach session, and more.
This package comes with 6 cups, a ball, a pump needle, and a storage bag easy to carry.
Get yours now by clicking the image below.
1. Uball
Have you ever wanted to hoop at the beach, maybe in the mountains, the city, or even somewhere as simple as your backyard?
Coming in at #1 is a game-changing product & sport that can be played anywhere, at any time called Uball.
Although Uball tops off at #1 on our Summer Wish List, this product and sport is meant to be enjoyed year-round.
Uball comes with an easily transportable hoop that packs up into a backpack. The hoop is adjustable as high as 8.5 feet and as low as 5.5 for kids. Once you're at your destination of choice to play, the hoop can be screwed into the ground, like a beach Umbrella.
Therefore, you can LITERALLY hoop on the sand or even in the snow. The Uball hoop once it's setup can withstand the force of a dunk, so get creative. And of course, the Uball hoop comes with a ball tailormade for the sport.
Similar to Spike Ball, Uball is a sport that comes with its own unique set of rules to be used with the hoop & ball.
How to purchase
You can preorder your Uball as soon as August 6th on Kickstarter. Also, visit Uballanywhere.com to join the email list to receive the latest promotions and special offers.
Join the Discussion